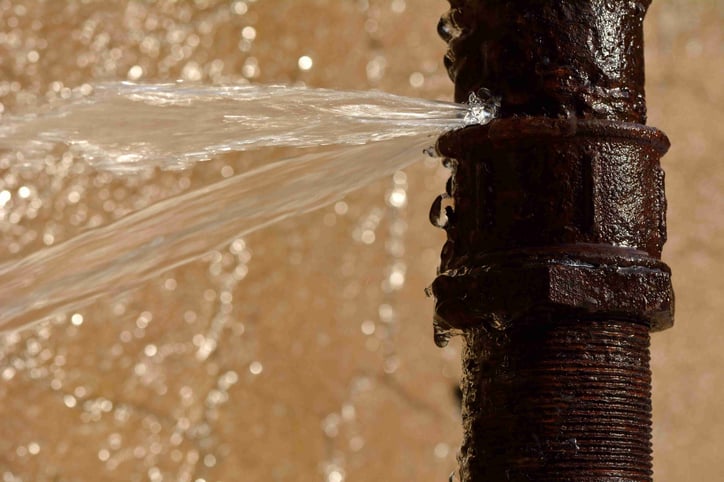 Colder temperatures lead to frozen pipes, and a frozen pipe often bursts. It's a good idea to know the steps to take if a pipe bursts in your building, and how to address the issue for insurance purposes. Here are some tips to help you along the way.
Shut off water at the main valve. This will help you prevent further damage.

If a hot water pipe has burst, close the valve on top of the water heater.

Call a plumber (list their number--and other emergency repair numbers--somewhere you can easily find them in an emergency)

File a claim. Most insurance policies cover water damage--and resulting repair expenses--when a pipe bursts. You need to provide details about what caused the damage, how extensive it is, and what immediate repairs you had to undertake to ensure your safety. You should include photographs of the damage, and receipts from any short term repair expenses. Don't use the word "flood"--even loosely--when filing your claim. Insurance companies have a very specific definition of "flood" and can deny your claim entirely if the word "flood" appears in your claim, or if you tell them you were flooded.

Make sure to be in contact with a public adjustor before undertaking any significant repairs. They will be a good advocate for you throughout the process. They offer a thorough assessment of damages, and they will make sure that any restoration, dry-out, or needed repairs will be done properly (and in a timely fashion).

Document everything: Whether you're keeping track of damages, repairs, or quotes from insurance agents and contractors, keep a written record and a paper trail whenever possible.

Do your research when it's time for the repairs. Your insurance provider is going to make recommendations for you to get professional repairs. But many less-than-reputable contractor and repair services come out of the woodwork in a season/area where a lot of these repairs are needed. It's a good idea to research companies thoroughly, read third party reviews, and doublecheck their accreditations and licenses before you hire them to do your repair. This type of due diligence does take extra time, but it's worth it to avoid unnecessary legal and financial hassles.

Know your policy (and your responsibilities . Unfortunately, your policy may not cover the damaged pipes themselves. It's also untrue that most restoration companies will bill the insurance companies directly. It's important to know what you will have to pay for out of pocket, what will be billed directly to insurance (or not), and what is definitely covered in your policy.
In general, taking these steps will make sure your claim is filed--and damage repaired--quickly when a pipe bursts in your building. Of course, taking precautions against your pipes freezing is a great step toward not being held responsible for the damages, and not having to undertake an arduous repair process in the first place.