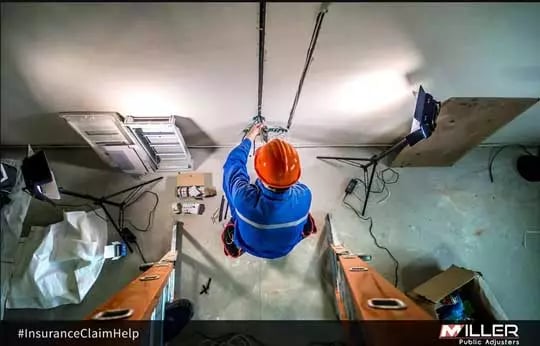 Building codes are in a constant state of evolution. Advancements in engineering, technology, safety, building materials and methods, and changes in the physical environment all drive changes in building codes. If your fire-damaged home is 10 or more years old, complying with the current building codes may add substantial cost to your reconstruction. Will you be stuck with the bill?
Replacement Cost Policies Don't Cover Code Upgrades
A standard replacement cost policy ultimately should pay the agreed upon cost to rebuild or repair your fire-damaged home. What it typically won't pay for are the additional costs for building code upgrades, whether required by law or local ordinance.
For example, some building codes require that a home be demolished if it is more than 50 percent damaged. Many standard replacement cost policies, however, do not cover the cost to demolish, remove the debris, or rebuild any undamaged portion(s) of the home. Depending on the language in your policy, you could be responsible for the cost.
Other codes prohibit reusing the foundation of a fire-damaged home, again adding substantial cost to the rebuild that isn't covered. Standard replacement cost policies exclude coverage for:
Foundations and pilings
Underground flues, pipes and drains
Excavation, grading and filling
Examples of potential insurance gaps created by code compliance are limitless. Building codes cover virtually all aspects of construction, including the:
Heating, ventilation and air-conditioning (HVAC)
Electrical and plumbing
Construction materials, means and methods
Setbacks from streets, waterways, and other structures.
Many many more.
The moral of the story is that standard replacement cost policies will pay to replace your home with a new home of like kind and quality. Building code upgrades, though, are not part of standard coverage.
Standard Code Coverage
Some homeowners insurance policies include a provision for a smidge of code coverage. You may hear this referred to as Ordinance or Law coverage or Building Code coverage. The starting limit is 10 percent of the dwelling coverage.
The cost of code upgrades, particularly with older homes and buildings, can be exceedingly high. One very rough estimate suggests code-upgrade costs start at $5 a square foot times the age of the home — or $225,000 for an 1,800-square-foot home that's 25 years old. Even if the dwelling limit (the estimated cost to rebuild the home) is $500,000, a 10 percent building code limit means the policy would pay $50,000 and the policyholder would have to pay $150,000 out of pocket for code compliance.
Obviously, these are not costs you want to incur. If the damage from your house fire triggered the need for building code upgrades, a careful reading of your policy and review of your reconstruction plan and estimate is important. A licensed public adjuster can examine your loss to confirm coverage and costs, and advise you on how best to proceed with your homeowners insurance claim.
Endorsed Building Code Coverage
Policyholders usually have the option to endorse their homeowners policies with appropriate code coverage — with the emphasis on appropriate. That means calculating the real costs of your real risks, and providing you the proper protection. Of course, this option comes with an added premium charge, which, depending on the age and location of the property, can be a worthy investment.
If you have a building code endorsement, and you're faced with the added cost of code upgrades because of your house fire, you may have the coverage you need. Confirm in your policy language, and in your endorsement, what is covered and for how much. Have your contractor break out which of your estimated reconstruction costs are the result of your fire damage and which are for code compliance. Be sure your contractor provides you a line-item estimate for all the work needed. Reach agreement with your carrier about how your damages will be covered before any work begins.
Get the Kit
Whether you're dealing with building codes, construction estimates, or negotiating values for your damaged personal property, suffering a house fire throws you into a world of duties, deadlines, and decisions that you may be both pressured and ill-equipped to make.
Our free Fire Loss Claim Kit is filled with tips and information that can help you keep your claim organized and on track for a successful settlement. If you haven't already, click the link below to download your printable PDF copy today.