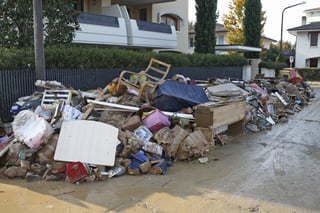 When your home has suffered a catastrophic loss, your first instinct may be to immediately start cleanup and repairs. It's hard to hold off when faced with a major mess like a fire-gutted kitchen or flooding caused by burst pipes. But resist the urge to clean up damage right away. There are steps you must – and must not - take when you have an insurance claim.
Your insurance policy is a contract with your insurer, and that contract spells out your responsibilities following a loss; you don't want your insurer to deny any claims or losses because you didn't follow the correct policy procedures. Here are the five most common mistakes homeowners make when they clean up damage after a disaster.
They start cleanup and repairs before notifying the insurance company
Your insurer will want to come out and inspect your property before any repairs begin. If you start repairs before then, the insurer may not pay for all or part of the damages, leaving you to cover some of the costs yourself.
They throw things away
Do not throw any damaged items away until your insurer has authorized you to do so. This includes receipts, credit card statements and bank statements, all of which will help support your claim about the values of the lost property. Your policy requires all damaged property to be available for inspection at any time throughout the claim, so don't prematurely dispose of precious evidence.
They don't secure the property to prevent additional damage
The conditions section of your insurance policy includes a clause that requires you to mitigate or prevent further damage to your property. Make temporary repairs like putting a tarp over your roof, or boarding up broken windows, but stop short of removing any evidence of damage.
They fail to make a detailed inventory of damaged property
Inspect the entire property, including basements, attics and outdoor structures. Check the roof for leaks, the foundation for cracks, and make sure your heating and air conditioning systems are working. Make a detailed written list of any damage you find, and be sure to take plenty of photographs.
They don't hire a professional to help handle the claim
When your loss is large, it's a good idea to obtain the assistance of a licensed public adjuster who will handle all aspects of your claim, including assistance with preparing your inventory and finding temporary housing.
Miller Public Adjusters currently serves the states of
Wisconsin - Florida - Illinois - Indiana - Michigan - Minnesota - Texas

Call us 24 hours a day at (866)443-5167 to schedule an appointment or
please fill out a Free Claim Review to see if we can help.