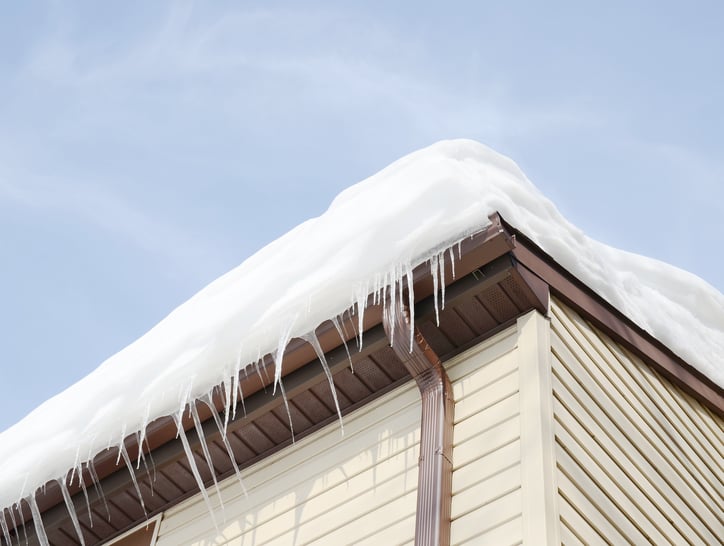 Winter snow and sparkling icicles are very picturesque on a holiday card, but not when your home, business, or property is damaged by an ice dam. While it's always good practice to re-read your policy and troubleshoot your questions with your insurance agent, we want to keep your stress to a minimum by giving you the essentials for your ice dam insurance claim.
The first step is to take stock of your related damages (and list them on your claim. Many homeowner policies cover damage related to ice dams once you've paid your deductible. These could include:
Damage to shingles or siding

Interior water damage (from water running down/into walls)

Roof damage (such as rotting soffit, fascia, or sheathing)

Insulation damage (in your attic or walls)

Damage caused by mold and mildew
Your ice dam insurance claim could also include steps you take to protect yourself from further damage and harm. Some common examples include roof repair, snow removal, and moving property out of harm's way. Again, keep track of the steps you have to take to ensure the safety of your person and property. It's important to note that--while there are some things you'll be able to do on your own, it's not always appropriate to take a "do it yourself" approach when making the repairs or removal necessary for your ice dam insurance claim. Your agent can help you with resources and partners that will keep you safe, and keep the repairs affordable/within your coverage network.
As with any claim, your ice dam insurance claim should include an accurate record of damages, related repair expenditures, photographs, and receipts. It's also good important to note that you should start only with the repairs that prevent further, imminent damage, and/or repairs that are necessary to keep you safe. Beyond that, no repairs related to damages should be made without first consulting with your insurance adjuster, so they can assess the extent of the damages.
When reporting the loss, do so as quickly as possible. Many companies have phone, email, and online reporting options that are very user-friendly, and designed to get your claim processed fast, so your property can get back to its best for you, and those sharing your space.
Note: if you have ice dams, but have not yet experienced damage, have a professional you trust help you with removal. In the meantime, create channels in the ice dams, and refrain from "chipping away" at the ice with sharp objects.
No matter what, be safe and ask for help if you need it. Don't dismay: spring will be here soon!