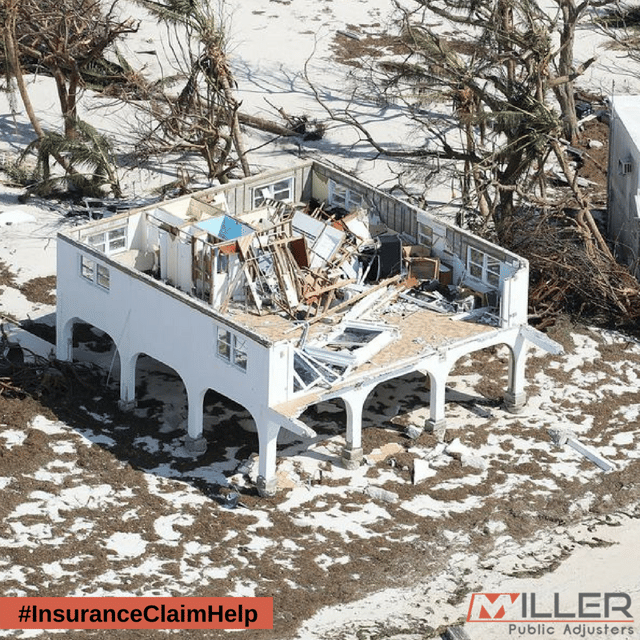 Hurricane Irma will go down as one of the most damaging storms in U.S. history. After leveling several islands in the Northern Caribbean, the powerful storm struck the Florida Keys and Gulf Coast. While significant damage also occurred in other states such as Georgia, South Carolina and Alabama, the lion's hare took place in the Sunshine State.According to Moody's Analytics, Irma's total damages are expected to exceed $150 billion, which is at the same level as 2005's Hurricane Katrina. And AIR Worldwide, a catastrophe modeling firm, estimates that insured losses in the U.S. from Hurricane Irma will range from $25 to $35 billion. Since Irma was a classic tropical storm in which most of the damage was done by wind and storm surge, much of the damage will be covered by property insurance policies.
Conversely the flooding from Hurricane Harvey that caused most of the damage in south Texas isn't covered by private insurers (except in rare instances). As a result, the Consumer Federation of America estimates Hurricane Irma could result in 450,000 property insurance claims. If that number includes you, you need to be proactive and pay special attention to your responsibilities.
A crucial element of a claim is the Sworn Statement in Proof of Loss, or the Proof of Loss form. Typically one page, the Proof of Loss form is a legal document, including supporting documentation, in which you attest to the amount of money being requested under your policy for covered losses.
In other words, you're providing your insurer a form in which you swear the claim is honest, and that you can back it up with evidence that you did in fact own the property that was damaged. Your insurance company uses this sworn proof of loss statement to verify the facts and determine how much it owes you for your property damage claim.
The Clock is Ticking
There is a deadline for filing a Proof of Loss form. Blow it and your claim could be diminished, delayed or at worst, denied. Typically a Proof of Loss form must be filed within 60 days after the company requests it, but it also could be 60 days from the date of loss. Your policy should specify; get a certified copy of your policy and look for "Section 1- Conditions, (2) Duties After Loss" to make sure.
If you have difficulty understanding your insurance policy, or if you need an extension to file your Proof, write your insurance company adjuster and mail it Certified Mail/Return Receipt.
The Proof of Loss Basics
Here are some other basic tips that will help settle your claim quickly and get you every penny you're entitled to collect.
Documentation of Damaged Items: It's always wise to have the original receipts of your damaged or stolen items. Estimates, appraisals, a home inventory, and other documents that back up your claim's value may also be requested by your home insurance company. If you don't have those available, you may need to contact your bank or credit card company for purchase records. Make sure that you get estimates for the needed repairs and save all invoices or repair bills to ensure you're sufficiently covered.

Get a Second Opinion: Estimates, inventories and other supporting documents that substantiate your claim's value must accompany your submission in order to obtain an accurate, thorough and substantiated claim value on your Proof of Loss form. Who do you rely on to provide an estimate and accurate claim total? The independent claims adjuster that works for your insurance company? A contractor your insurance company sent out?
Our advice is to always obtain a second even a third estimate from a qualified and licensed expert who is not affiliated with your insurance company. These estimates should be prepared by a licensed general contractor qualified to do the repairs, or an experienced public claim adjuster with a proven background in construction, personal property claims and cost valuation.
Obtaining estimates, in addition to the estimate done by your insurance company or one of its hired contractors, will provide a truer value of your claim and subsequently, include an accurate and fair claim value on your Proof of Loss form. For questions about how to calculate the replacement cost or actual cash value of your claim, contact Miller Public Adjusters and we will be happy to provide you free, no obligation guidance.

Sweat the Small Stuff: Seemingly small errors can lead to delays with your property insurance claim. Double, even triple check that your Proof of Loss is signed and dated correctly. And make sure it's notarized. Notary Publics are located in places like an office supply store, mailing service, courthouse, or bank. Sign and date in front of the notary public, and he or she will fill out the rest of the information. Also make sure the correct policy number, claim number, policy term, date of loss, and other specifics are listed correctly and legibly on the Proof of Loss form. Don't give your insurance company any reason to delay your claim settlement.

Know When to Seek Professional Help: When and how you submit a Proof of Loss statement and the accuracy and origin of the information will largely determine the course of your claim. It's to your advantage to engage professional expertise early in the claims process to ensure a quicker, fair settlement.
Most of the people we've helped before will consult with us prior to calling their insurance company when experiencing another claim situation. The adjusters in our office are happy to answer questions and offer some guidance free of charge.

When and how you submit the form, the accuracy and origin of the information, and what you choose to include or exclude on the Proof of Loss form will determine the remaining course of your claim.