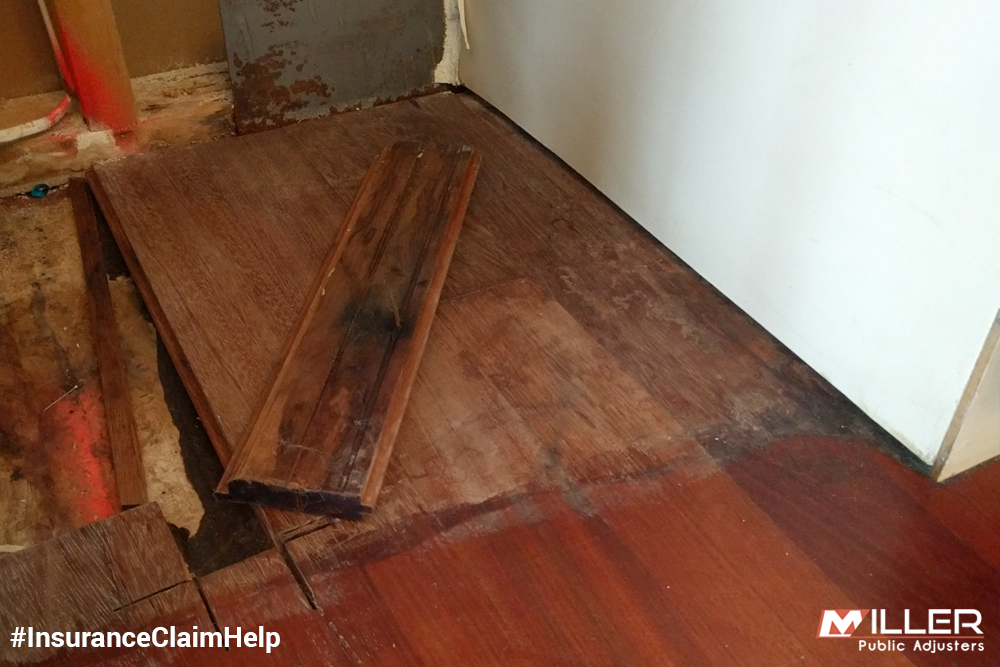 An insurance company will never voluntarily pay more than an amount claimed by a policyholder. So if you suffer a loss, the scope of damages needs to account for everything needed to restore the property to "uniform and consistent" appearance. That's where licensed public adjusters can really prove their worth—using their extensive knowledge and experience to include claim elements that may not appear obvious to the untrained eye.
An insurance company won't likely say, "Oh, you forgot to include this." Homeowners typically are not building contractors, so how will you know what to look for and include in the claim and ensure a uniform and consistent restoration?
For example, a recent case involved a water leak in a kitchen appliance that damaged the hardwood floor with subsequent leakage into a finished basement. The obvious damage was to the floor, subfloor, basement ceiling, and walls. The insurance company's claims adjuster noted all this, added up estimated repair and replacement cost and offered a settlement amount to the homeowner, who had a Homeowners insurance policy providing replacement cost coverage.
Uniform and Consistent
Policy language entitled the policyholder to be paid for the cost of restoring the home back to a "uniform and consistent" appearance. Had the homeowner accepted the initial offer—covering the replacement cost of those obvious damages mentioned above—he would have fallen well short of settlement dollars required to restore the home back to a "uniform and consistent" appearance. So instead of accepting the settlement offer, the homeowner made a call to the licensed public adjusters at Miller Public Adjusters. And he's sure glad he did. Here's why.
In the repair estimate for the damaged hardwood flooring, the insurance adjuster declared that it could be fixed by simply sanding and refinishing. The owner and licensed public adjusters from Miller Public Adjusters correctly determined that such a repair would not match the rest of the undamaged portion, thus not conforming with the "uniform and consistent" clause. The damaged portion wood needed to be replaced.
But after inquiries to flooring vendors it was soon discovered that the particular cut and size of flooring used was no longer available. That meant the entire kitchen floor had to be replaced. Once that was determined, it set of a litany of other requirements.
All the appliances needed to be removed and stored. Cabinets and installed countertops had to be taken out as well, action that would essentially destroy the counters and backsplash thus requiring additional replacement and installation costs. The water damage also caused some mold damage, requiring abatement.
The hardwoods ran continuously throughout the first floor and because of that, the insurance company owed for the hardwoods to be removed and replaced in the hallways, bedrooms, foyer, and living room. So tack on additional costs for dealing with relocation of furniture, beds, rugs, etc.
Then there was the damage done to the finished basement, which we won't list here, but rest assured it was more substantial than the adjuster's initial assessment.
Licensed Public Adjusters Make Sure Everything's Covered
The initial offer in the low five figures quickly ascended to a six-figure claim, which was eventually satisfied thanks to Miller Public Adjusters' efforts. You can see how a seemingly simple set of repairs can actually get extremely expensive and complex when inspecting the actual damages and figuring what it will take to restore the damage to a "uniform and consistent" appearance.
Few private homeowners have the knowledge, expertise, and experience—let alone the time—to do a deep dive into a complex claim situation. Call Miller Public Adjusters at 866-443-5167 for a free claim review. Our experienced licensed public adjusters will make sure everything is accounted for in restoring your property to its "uniform and consistent" pre-loss condition.