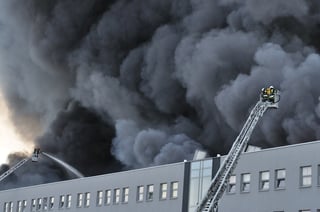 When you experience business fire damage, it may become a front page headline, a six o'clock news story or an internet blurb. Such public awareness may bring a parade of contractors, fire restoration services, and other companies to your place of business. These professionals know you'll need them sooner or later, so they may fill your mail slot or entryway with offers for inspections, courtesy estimates, and discounts.
That's not necessarily a bad thing. One of these offers could be your first notice that you may have hidden fire and smoke damage to consider. You may need a fire restoration professional to handle the job.
You Decide Who does the Work
During a fire, smoke and soot travel throughout your building, leaving damage and odors behind. You can search the internet for cleaning solutions, deodorizing devices, and DIY smoke/soot cleaning tutorials, but your amateur efforts may cause more damage. Smoke and soot removal are best left to professionals, but before you sign a contract for fire restoration services, be sure to ask the right questions.
What services do they offer?
Smoke and soot are lightweight. They easily find their way throughout your building, leaving an acrid smell and a dark film on nearly every surface. They settle into carpeting, drapes, upholstery and other fabric. They enter vents, ducts, cabinets, industrial equipment and appliances and seep inside walls. Before you hire a fire restoration professional, find out if they offer the services to resolve your problems.
Odor neutralizing products and techniques
Thermal fogging for inner walls and ducts
Ozone-based cleaning
Green alternatives
Sealants for difficult areas
Do they give free estimates?
Find out ahead of time if your restoration company charges for estimates. Estimates are a cost of doing business so your insurance company might not reimburse you.
How will they determine if something should be cleaned or tossed out?
Unfortunately, some smoke and soot damaged areas may need to be replaced instead of cleaned. It's important to find a fire restoration professional with the knowledge to make the right judgment call.
For insulation, wallpaper, and highly smoke-contaminated fabric furnishings, deodorizing and cleaning solutions may not work.
Some paint, furnishings and walls may remain discolored.
For older or inexpensive items, cleaning costs may exceed values.
Do they have references?
Like other contractors, you won't know if your restoration company is trustworthy and does quality work until after they complete the job. Ask for references and testimonials ahead of time.
Can your fire restoration company work with your insurance company?
It's not unusual for insurance adjusters and contractors working in the same region to have unresolved disputes. Find out ahead of time before it causes problems with your claim.
How are rates calculated?
Ask for a fee schedule. It will help you to understand what goes into an estimate, how they arrive at supplemental charges, and any policies and service guarantees.
Finding a Fire Restoration Professional
If you don't know a reputable fire restoration company, ask your friends and business associates for recommendations or search local and online listings. Your property insurance adjuster may also be able to provide a name from a list of "approved" contractors.

A Public Adjuster Can Manage Your Claim
To restore your commercial building after a fire, you'll have to handle insurance company property adjusters, contractors, service pros, coverage issues, damage disputes and other complications. Hiring an insurance expert such as a public adjuster can reduce your workload. A PA is an insurance claim professional with the expertise to manage all elements of your business claim while working to negotiate a fair settlement.

Miller Public Adjusters currently serves the states of
Wisconsin - Florida - Illinois - Indiana - Michigan - Minnesota - Texas
Call us 24 hours a day at (800)958-4829 to schedule an appointment or
please fill out a Free Claim Review to see if we can help.