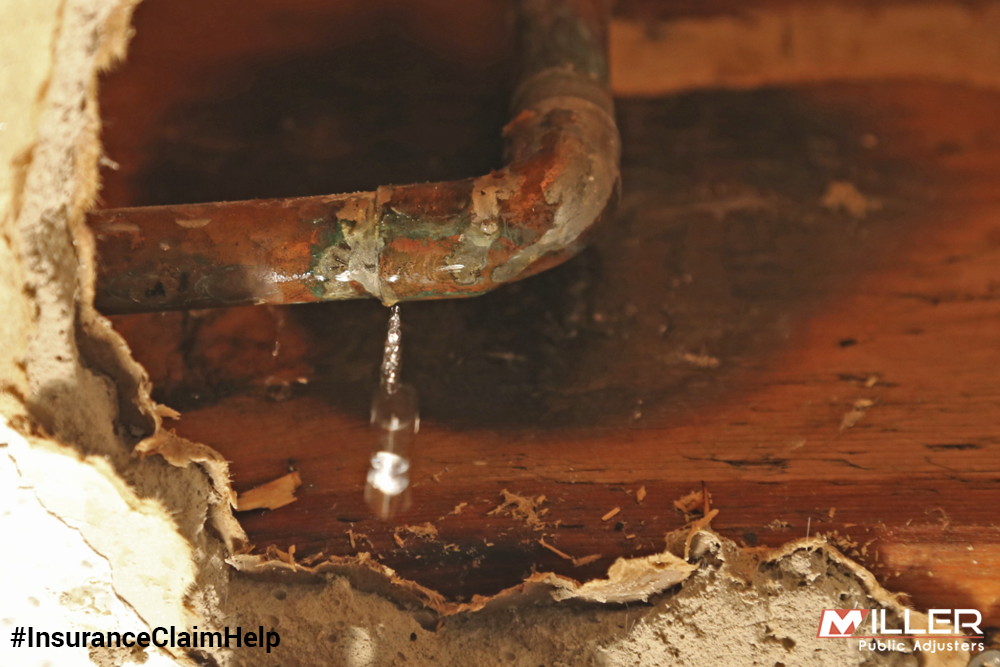 According to Insurance Services Office (ISO), water damage claims are the second most frequent insurance claims after wind and hail damage. Most water damage claims this time of year are caused by frozen pipe bursts, and this year's winter has been especially brutal, affecting areas as far south as Texas and Florida.
If a frozen pipe bursts in your home, you need to act quickly to stop water from causing further damage—and a burst pipe can do significant damage in a short period of time. It's the policyholder's duty to start the cleanup, dry out, and mitigation process so as to prevent further damage from occurring. Failure to do so may result in a claim denial from your insurance company.
Shut off the water service to the building immediately.

Make sure you know where shutoff valve is located

and that it is operable in case you need to turn the water off quickly. (You also may need to shut electrical power off in the affected area.)

Move any water-logged items to a warmer and drier location and start drying them out.

Remove as much water as you can with a sump pump/other pump or wet-dry vacuum, and place fans and a dehumidifier in the area.

Try to locate the source of the burst and

repair

if you can, or call a plumber if you need to. Note that the cost of repairing the burst is usually not covered by insurance.

Notify your insurance company (agent) if you have damage that should be covered by your insurance policy.

Be sure to take photos to document damaged areas.
Will Insurance Cover My Frozen Pipe Burst Damage?
A typical all-perils homeowners policy does not cover repair costs for the pipe that burst, but it will typically cover the resulting water damage caused by a frozen pipe burst. This could include damage occurring to the carpet, drywall, paint, ceilings, as well as additional service required to clean up the water, dry out the home and possibly prevent mold.
One of the most frequent reasons an insurance claim gets denied is when a policyholder makes a claim for something that suddenly appears to them, but occurred due to an ongoing problem such as a small leak. The term used to describe those situation is "gradual damage."
To be insurable, frozen pipe bursts must happen "suddenly and by accident" and shouldn't have been easily preventable. Insurance companies may deny coverage if they determine neglect, wear and tear or normal maintenance as the culprit. When a frozen pipe bursts due to lack of heat in the building, a claim for water damage will be denied.
That means when a leaking pipe that you fail to fix—even if you're not aware of it—subsequently bursts, the insurance company may deny the claim due to your negligence. Similarly, If you live in a northern climate and your broken pipe is a result of freezing due to a lack of heat in the home, you could be found negligent and have your claim denied.
Frozen Pipe Bursts at My Vacation Home/Cottage
In the case of a vacation/summer home or cottage that is not occupied during the winter months, take reasonable care to safeguard the building from damage, including shutting off and draining the water system or appliances and maintaining heat in the dwelling, It's also a good idea to have a neighbor, family member, trusted friend or employee check in on the house regularly—especially after a storm or during an extended cold spell—and report any problems or potential problems. Make sure those regular visits are documented.
Meet with your insurance agent to make sure certain policy coverages are not excluded during times of extended periods of non-occupancy.
An Ounce of Prevention…
Have your plumbing inspected by a licensed professional on a regular basis. Different portions of your home's plumbing will have various life spans. Replace pipes that are beyond their intended life cycle or are leaking and needing maintenance.
If you experience a frozen pipe burst, contact Miller Public Adjusters and have one of our licensed public adjusters help you properly document and file a water damage claim so you reach a fair settlement. We'll be your advocate, making sure the insurance claim recovery and your settlement money is maximized. Call us toll-free at 866-443-5167.