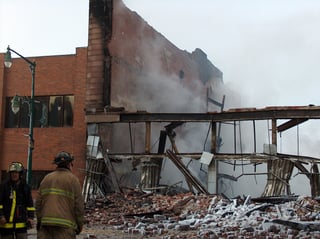 You invest your time, money, and resources to keep your business up and running. Despite your hard work and dedication, a single mishap or natural disaster could force you to close your doors forever. A comprehensive insurance program with property, liability and business interruption coverages is the best way to avoid post-disaster outcomes. You probably know the basics of property and liability insurance, but do you understand what's really covered by your Business Interruption Coverage?
What is Business Interruption Coverage?
Business Interruption Coverage pays the additional expenses incurred due to setting up temporary operations elsewhere and/or resuming operations after your damaged premises has a total or partial shut down. The coverage is provided through a series of provisions under the "Additional Coverage" section of a Business-owners Policy or a similar package policy.
Business Income
"Additional Coverage f (1) Business Income" pays for income your business would have earned and business expenses you would not have incurred had a covered occurrence not taken place. The provision pays for income lost due to "direct physical loss" to your premises. This coverage pays:
Net income
Continuing operating expenses and payroll
Ordinary payroll expenses, including employee benefits, FICA, union dues, and workers compensation premiums
Extended Business Income
"Additional Coverage f (2)" provides up to 30 additional days of lost business income incurred after your building has been restored and your operations resumed if your income has not yet returned to normal.
Extra Expense
"Additional Coverage g" covers the extra expenses incurred while you work to restore your business. This benefit includes:
Expenses that minimize your downtime and reduce losses
Costs to research and restore lost information and "valuable papers and records."
Contingent Coverages
Most BOP business interruption coverages pay only after your business suspends operations due to direct physical loss to your premises. These additional coverages respond even when there is no direct physical loss.
Civil Authority
"Additional Coverage i" pays your loss of income and extra expenses when a civil authority prevents access to your business premises due to a covered loss that occurs elsewhere.
Business Income From Dependent Properties
"Additional Coverage m" pays up to $5000. when you lose income on a property that depends on your suspended business operations, such as your retail outlet that sells products you can no longer produce due to a covered occurrence.

A few additional things you need to know
Business interruption provisions are further defined by specific policy definitions, exclusions, and time limitations.
"Deductibles" are based on time not money, such as the 72 hour waiting period before coverage applies.
Benefit maximums are governed by the "...length of time it would have taken to resume 'operations' as quickly as possible..." instead of dollar limits.
Unless your policy is endorsed to cover a longer business interruption period, coverage is generally limited to a 12-month "period of restoration" as defined by the "Property Definitions" section.
Business Interruption Insurance Claims can be Complicated
It's important to understand that your business interruption claim is subject to your insurance company's interpretations and opinions. You must take a firm position if you adjuster attempts to reduce your legitimate claim expenses.
When you need assistance, consider hiring a Wisconsin Public Adjuster with the knowledge to manage all aspects of your property claim and the experience to negotiate a fair settlement.

Miller Public Adjusters currently serves the states of
Wisconsin - Florida - Illinois - Indiana - Michigan - Minnesota - Texas
Call us 24 hours a day at (800)958-4829 to schedule an appointment or
please fill out a Free Claim Review to see if we can help.