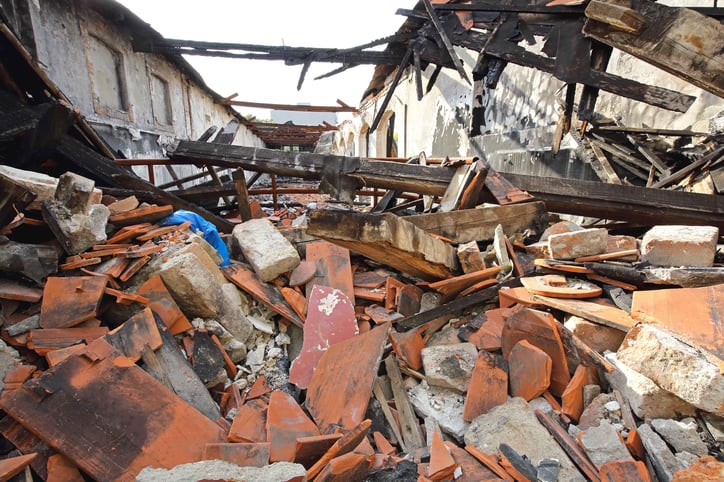 It may seem like you would know when a roof collapse has happened (and when you could claim it on your insurance policy). But when you think about it, roof collapse is more of a process than a single event. It doesn't just collapse out of nowhere. The collapse begins when the roof shows signs of distress. Prolonged distress on the roof--from the elements, or time spent delaying repair the roof--may mean collapse is imminent, even if the roof is still intact on the building. And of course, roof collapse is complete when the roof crumbles to the ground and has to be completely replaced.
So when is coverage triggered for a roof collapse? It depends on your policy, and legal precedent for the state you live in. Some policies say that that expansion, shrinking, or settling is not collapse, while others say it is, because the instability created by those conditions led to the collapse of the roof. Even if you're fairly familiar with your coverage, It's a good idea to research relevant court decisions in your state. You should also get detailed information about your policy, so you know exactly when your coverage is triggered.
Along with how--and if--your policy defines "collapse", it's also good to know what your policy covers that may be related to roof collapse, and what the exclusions are. (This is important because you may be covered not only because of what your policy states, but because of what it does not explicitly exclude from coverage.)
Examples of what may trigger coverage for roof collapse include:
Defects in materials

Faulty design, workmanship, or construction

Shrinkage, bulging, settling, or cracking in the structure that affects the stability of the roof

Conditions that mean roof collapse was imminent or unavoidable

If the building has been abandoned or taken out of service because of threat of roof collapse

If the condition of the roof threatens safety

If conditions of the roof prevents you from living, or conducting business in, your home or building

If the roof has been materially impaired (but has yet to collapse)
If you are fairly familiar with your state court decisions related to roof and structural collapse, it would be smart to find coverage that aligns with what the state favors. For example, if you know the state granted the insurance company had to pay someone for roof collapse damages when collapse was imminent, finding a policy that mirrors that will help you be better protected (and avoid unnecessary legal hassle).
If you aren't sure what your policy means, or when coverage is triggered for a roof collapse--or other issues--check with your insurance agent. Don't be afraid to ask exactly how terms are defined. Even if they sound simple or straightforward, there are many caveats and exceptions to when you can (and can't) trigger coverage for roof collapse, or other incidents affecting your home, business, or other property you own.