When is The Right Time for the Appraisal Clause?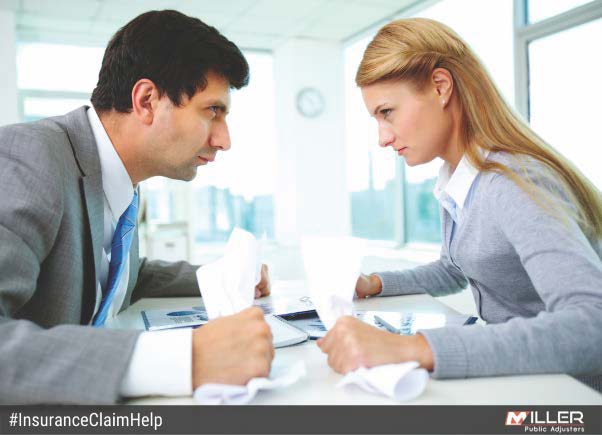 Are you at a settlement impasse with your insurance company?
Have you suffered a covered loss and now feel stuck because of a disagreement on the valuation of your property damage claim?
Unsurprisingly, this is a common situation and often the remedy is litigation between insured and
insurer. However, there is another option you may not be aware of.
What is the Appraisal Clause?
Most insurance policies include an appraisal clause. This is an option that can be invoked by
either the policyholder or the insurer in the case of a loss and a subsequent disagreement
regarding the amount owed as a result of the loss. When this option is "invoked," the policy
allows for the insured and the insurer to each hire an independent unbiased appraiser to
establish the extent of the loss by assessing each parties supporting documentation. A mutually
agreed upon umpire is also appointed upfront in case there is an impasse between the
appraisers assessment. The subsequent settlement amount as agreed upon by two of these
three people will be binding.
It's important to note that insurance appraisals are different from the appraisal you might receive
when you're purchasing or selling real estate. Insurance appraisals focus on the replacement
cost and actual cash value of the damages to your property while real estate appraisals
generate a market price based on comparable sales.
When is the Right Time to Invoke the Appraisal Clause?
Now that you know what an appraisal clause is in an insurance policy, you may wonder when is
the right time to invoke the appraisal clause? Here are three guidelines that provide a basic
understanding of when to pursue this option.
First, the appraisal clause is primarily applicable to a disagreement in the scope of repair and price of repair for property damaged or destroyed. If you have a disagreement with your insurer regarding "coverage" under your policy, the appraisal clause is not the way to settle that question. However, if coverage has been established, but a disagreement in settlement amount exists regarding the scope and price of restoration, the appraisal clause may be invoked to reconcile differences. In this situation, scope refers to the extent of the covered loss. A disagreement related to scope is rooted in determining how much of an item's value was lost. Price-related disagreements center around the dollar amount required to restore property. An appraiser is qualified to provide expert insight into determining the cost to restore especially in relation to building materials and types.
Second, the appraisal clause is invoked when there is a significant dollar amount in question. Because the appraisal process will cost you the price of an appraiser's fees and 50% of the umpire's fees, it is not an inexpensive process. Typically an appraiser will work on either an hourly basis or flat fee schedule depending on the complexity of your claim. The insurance company will pay for their appraiser and the other half of the umpire's fees. Still, you'll want to consider the final dollar amount you hope to gain as a result of the appraisal. The amount in dispute needs to outweigh the costs of the appraisal process.
Finally, if there has been a breakdown in communication, the appraisal clause may be a solution. If you find yourself at a standstill regarding the settlement amount and you no longer have open communication with your insurance company or adjuster, this could be a signal that an alternate path needs to be found. Stonewalled communication could be a signal it's time to find an outside independent party to step in.
Whether or not you determine the best course of action is to invoke the appraisal clause in your
loss, it's important to understand what your options are and make an informed decision
regarding your route to restoration. Miller Public Adjusters offers assistance on your road to
restoration from a disaster. Our expert appraisers have assisted many customers who were
frustrated with their claims experience. We are available to get you through this and on the road
to restoration. Please contact us to set up your free claim review today.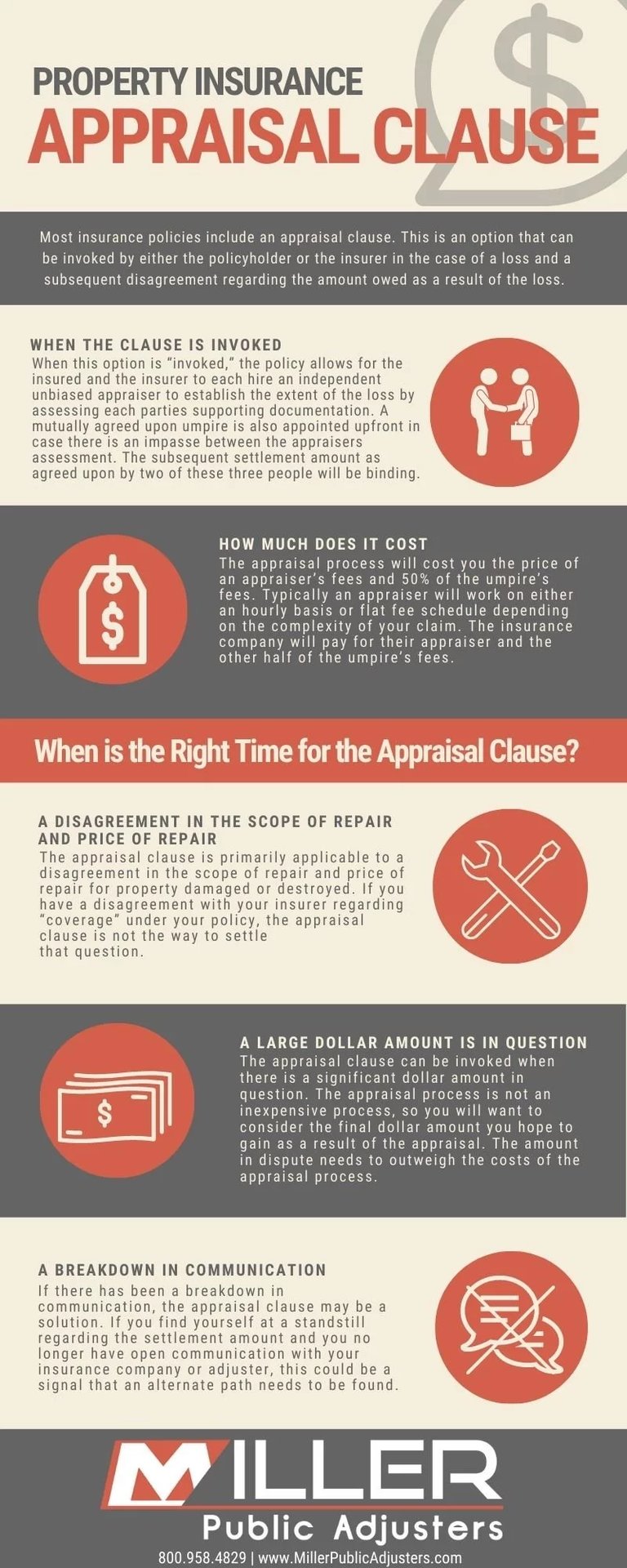 Miller Public Adjusters currently serves the states of
Wisconsin - Florida - Illinois - Iowa - Indiana - Michigan - Minnesota - Texas
Call us 24 hours a day at (866)625-0747 to schedule an appointment or
please fill out a Free Claim Review to see if we can help.