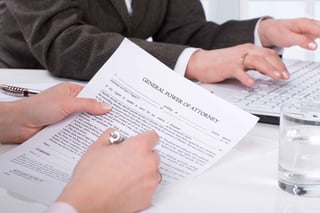 When your home is damaged by an insured peril, it's important to try to work out a settlement with your homeowners insurance carrier. You may not agree with the way the insurance adjuster handles your claim, and at times, you may feel like the claim process is one long, tedious argument. Still it's important to realize, that you have a contractual relationship with the company that insured your home at the time of your loss. You cannot sever the relationship and every claim issue will be resolved sooner or later.
Sometimes you and the adjuster can work through your differences. Other times you must rely on outside intervention. Your homeowners insurance policy acknowledges that possibility under Section C - Conditions, E Appraisal.
The Appraisal Process
When your insurance company refuses to back down from what you feel is an unfair insurance offer, maintaining a sense of trust can be difficult. This can happen when you and your insurance adjuster are worlds apart in the way you see your claim. The claim process tests your patience with damage repairs, content replacement, additional living expenses, and many other claim aspects. It's impossible to agree on everything, but if you and the company adjuster feel like you're banging your heads against a brick wall, it's best to try something different.
A Homeowners Appraisal is a step-by-step process.
The insured and insurance company fail to agree.
Either may submit a written Appraisal request.
Each party chooses and pays for an appraiser.
The two appraisers choose an umpire.
If the appraisers agree on a figure, the company pays that amount
If they disagree, the umpire reviews their differences.
When any two (umpire and/or appraisers) agree, their figures determine the settlement amount.
Alternative Dispute Resolution
When insureds and insurers can't agree but wish to avoid litigation, they may initiate the ADR process.
Mediation - Facilitated negotiation where a mediator listens to both sides then brings the parties together to work things out informally.
Arbitration - A group of arbitrators hears the evidence for both parties and decides what should be done. When arbitration is binding, the decision is final. With nonbinding arbitration, either party may reject the findings and try something else.
Filing a Lawsuit
You have no right to sue your insurance company until you have complied with all terms of the policy. That includes filing a proof of loss, submitting to a statement under oath if requested, working through the mandatory Appraisal Process and any other applicable provisions. If you have complied with all policy terms, you may choose to sue.
Public Adjuster
A public adjuster is an important option to consider when you want your claim issues resolved without resorting to Appraisal, Alternative Dispute Resolution or Litigation. A public adjuster is an insurance professional with extensive claim experience and insurance knowledge. Many public adjusters come from insurance company or industry backgrounds, so they understand the insurance claim process from both sides.
Your public adjuster will conduct his own investigation, review all aspects of your claim, deal with contractors and insurance company adjusters, and do everything to get the most claim dollars for you. A public adjusterwill receive a percentage of the amount recovered under the policy.
For more information on hiring a public adjuster to resolve your claim issues, contact Miller Public Adjusters.
Miller Public Adjusters currently serves the states of
Wisconsin - Florida - Illinois - Indiana - Michigan - Minnesota - Texas
Call us 24 hours a day at (866)443-5167 to schedule an appointment or
please fill out a Free Claim Review to see if we can help.